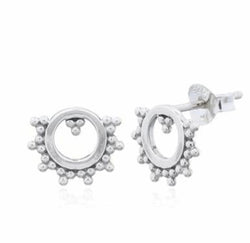 Tribe and Hunt
Sterling Silver Stud Earring - Gypsy
Sterling Silver Stud earrings with an intricate gypsy style design.
These Sterling Silver studs measure approx 10mm x 12mm in diameter and have a sterling silver backing.
Gorgeous pearl earrings!
These look stunning! With the long hoop they land in just the right place to make maximum impact. I bought them to replace a pair I lost but they are much nicer.
Silver/Pearl Earrings
Very pretty, bit bigger than I expected.
I like them, so I will wear them.
Service & delivery very satisfactory.
I have purchased a few pieces now & the quality & workmanship is excellent.
Delicately Beautiful
Gorgeous pair of delicate statement piece earrings - quality, service & shipping was 10/10 have brought another piece for gift & recommended to many friends 💛
Love my earrings
I love them, especially the design with the long hook, as l am finding lately l am loosing earrings with the regular short hook, they just fall out
Stylish and easy to wear
My new Gold Vermeil earrings are exactly what I was searching for- classy, quality and easy to wear earrings that instantly lift any outfit. I love them!