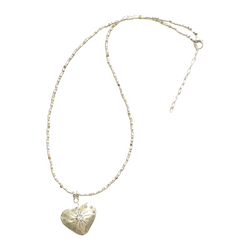 Tribe and Hunt
Hill Tribe Silver Necklace - Hathor
A handcrafted Hill Tribe Silver (99% pure silver) necklace featuring a hand stamped and formed Heart pendant and a mix of 14k gold filled, vermeil and pure silver bamboo shaped beads.
This handcrafted necklace is finished with  a parrot clasp and a 5cm extension chain.
The necklace chain is 40cm + 5cm extension chain amd the heart pendant is 2.5cm wide x 3cm long.