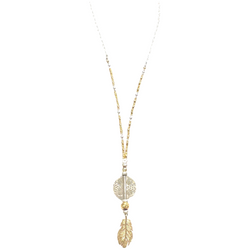 Tribe and Hunt
Hill Tribe Silver Necklace - Cleopatra
A handcrafted Hill Tribe Silver (99% pure silver) necklace featuring a circular hand stamped and formed flat bead, a 15k Gold filled Feather and a mix of 14k gold filled and vermeil beads.
This handcrafted necklace is finished with  a beautiful belcher style chain that can be worn at any length up to its full length of 90cm.  It is finished with a small parrot clasp that will clasp onto any of the belcher lengths, meaning you can adjust easily to your preference.
Its full length is approx 80cm and the pendant measures 7cm x 2.5cm.