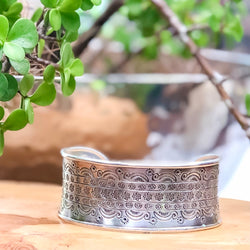 Tribe and Hunt
Hill Tribe Silver Cuff Bracelet - Floriade
An exquisitely detailed Hill Tribe Silver Cuff bracelet featuring a beautiful hand stamped tribal motif.
Hand hammered finish with a rolled edge.
Hill Tribe Silver is 99% pure silver and is handcrafted by the Hill Tribes of Northern Thailand.
This incredible piece of jewellery weighs 34 grams and is 2.6cm in width, and the diameter is adjustable to fit your wrist or forearm perfectly.
Beautiful
Really pleased with the quality of these beautiful bangles, light enough to wear every day and very well made. Highly recommend.
Coveted and loving
Saw this and loved but didn't buy as purchase for self/ frivolous. Keep seeing for approx 12 months before I decided I deserved it. Loving it. Glance at it often when I'm wearing.
Hill Tribe Bracelet Golden
Is this going to become available soon I have been waiting for quite while
Beautiful Bangle
I'm in love with my purchase (gold / silver bangle)it's very unique design ❤️