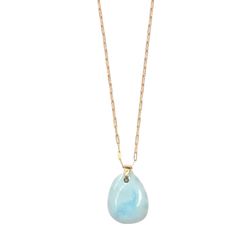 Tribe and Hunt
Caribbean Lover Necklace
An exquisite teardrop shaped piece of AAA Grade Larimar makes a stunning statement when paired with a 14k Gold filled paperclip chain.
Each piece of Larimar will vary slightly in colour, and measure approximately 19mm in length and 15mm in width at its widest point.
45cm 14k Gold filled chain.
Sweet, simple, but classy
I was really pleased when I received this order, as I had requested that the chain be made smaller. It came the exact size I asked for. I wear it most days now.
A HEART FROM MY HUSBAND OF 44 YEARS
I have always loved the look of fob chains - and this is dainty and sweet and a pleasant surprise gift!
Why would any gal want to turn that down?
Gorgeous!
I love my necklace, it's beautifully made and just what I was looking for.
Mother's day gift
Wife loved the Paua shell neckless.