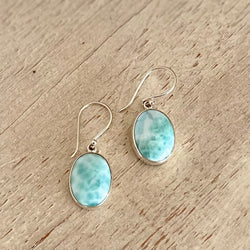 Tribe and Hunt
Blue Lagoon Earrings - Larimar
AAA Grade Sterling silver set Larimar earrings.
These beauties are light and easy to wear.  The Sterling Silver set pieces of Larimar are approximately 1.5cm in length and the total length of these stunning earrings is approximately 3.5cm.
 Sterling Silver Earwires.
Blue Lagoon Earrings - Larimar
absolutely stunning earrings- excellent quality craftsmanship- the Larimar crystals resemble the ripples of the ocean...