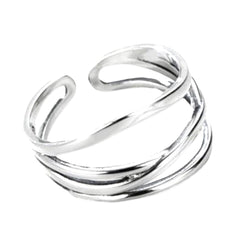 Tribe and Hunt
Adjustable Ring - Fine Lines
Solid 925 Sterling Silver Adjustable ring, with a chic multiple line design.
Sizing of this ring is adjustable to fit all finger shapes and sizes.
.
Excellent
Beautifully made will wear often
Didn't hit the mark
This ring looked beautiful in the pics but it's smaller than what I thought it would be, plus when I tried it on my pointer finger the band opened so much that now there is a kink in it and I feel it may snap. It is a beautiful simple ring design though.
Graduation
Beautiful, engraved it as a graduation gift
Adjustable ring
Simple contemporary wave design. I also have the pearl adjustable which Is designed in a different way and more comfortable.
Ring
Awesome pearl and silver...posted to my bff yesterday hope she loves it just as I do....please let me know when the turquoise rings are available again...will be back...quality 100 style 1000 tyou xx